Cornerstone interview April-2004.
Cornerstone has become more and more a band - an ongoing proces culminating on this 3rd release called "Once upon our Yesterdays". On their second album "Human Stain" the band already featured the "dynamic duo" of founders Steen Mogensen on bass/keyboards and Dougie White on vocals as well as former Mike Tramp fret-acrobat Kasper Damgaard and drummer Allan Sørensen. This new album is by far their best, and that is a fact and not a cliché, first and foremost because of the more band orientated sound and of course of the great songs! They are all melodic, grandious, and spectacular - all delivered with musical elegance each and everyone, also special guest star André Andersen of Steen Mogensens former band Royal Hunt.
I have talked to one of the two main men in the group - Bassist and songwriter Steen Mogensen. And this is what we talked about:
The Interview:
Q: You have just released a new CD under the Cornerstone moniker called "Once upon our yesterdays" and it got pretty good reviews all over the Internet Community - What is the story behind this album? How do you work together ? - this time around it is only Mr. White living outside Denmark I presume.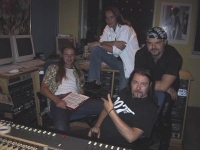 A: For this album We had this idea about getting Kasper Damgaard, the guitar player, much more involved to give the songs a heavier and different flavour. You won't probably notice the first time you hear the album but there's a lot of small guitars fiddling around in places to give another touch and to explore different areas, Besides that we wanted to capture a live feel not using to many overdubs, let the band play instead of the computer. Songwise I guess you can feel that we found the chemistry of Cornerstone you know working close together on 2 albums I believe we found our own expression and trademark. Regarding the songwriting We worked as we did on the last album shipping ideas back and forth between England and Denmark, I have a small studio at home and if I have good riffs or melodies I record it, Its very random, when and how it comes about. Sometimes it will come as a flow for a couple of weeks where you will be very productive doing maybe three or four songs. It's nice when you hit some of these periods. Other time you're not doing anything for a month you don't have any inspiration. Whenever I feel a song is ready I send it to Doogie to get his point on things Is it good or crab and if we both agree he starts working on the lyrics.
Q: The album "Once upon our yesterdays" is to me more of a band project in opposition to your previous releases where it is a Mogensen/White project is that correct? And can you describe the other guys in the band - I mean they are not new but they are not "hired guns" anymore....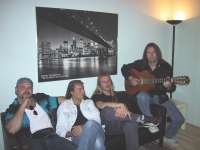 A: Your absolutely right, as I said before, with "Once Upon Our Yesterday" we wanted to move in to a more bandlike and rockier direction as the songs were getting heavier too,and as a band its extremely important to develop from each album, it just dont make sense to record the same album over and over again and it obviously included the rest of the members to get much more involved on this album and we are extremely happy with the final result.
Q: Can you describe the work proces doing this very complex new album. How did it start? This album is complex and progressive but has also more fragments of your melodic sides as well.
A: From the first demo recordings to final mix around 6 months, not included the songwriting process, the album was actually easier to record compared to "Human Stain", cuz the band was better prepared for the studio this time, and we had the time to try a lot of experiments -I also believe that the production is the best so far , its more a full sounding and in your face kind of album, I think we moved into a more American way of production, and its diffenitely not overproduced which was the whole idea with the album.
Q: What are your main influences in music? I'm not a hard core enthusiast in Prog-rock scene but I can hear a combination of your and Dougie White's past in here - in excample the melodic sides to Rainbow combines with the complexity of your time in Royal Hunt?
A: We both have the legendary bands from the 70's as our main influences,and I believe we are sticking to the classic rock in the future too. Of course it has a little to do with Doogie getting involved with the songwriting on the second album too. He is for me like a classic rock singer. You get parallels to the 70's and the way he's singing and his voice off course, but then again we can still take some small steps in the songwriting and arrangments if we feel like exploring new areas.
Q: ... and speaking of Royal Hunt - whats the story about you leaving André Andersen and company?
A: Well it wasnt an easy dicission to make after all these years in the band, but its all a matter of Being true to yourself, I just didnt have the flame burning in me anymore and then it must be the right time to stop.
Q: How about yourself? What are you up to these days? And how about a tour and the future for Cornerstone! I sense that you on the new record is more clear, have you found new energy in this project?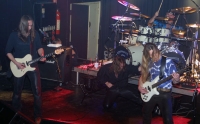 A: We have been busy with the promotion of the album the last couple of months besides rehearsing with the band for live shows, as you might know we just did our first official show in Vega on February 20th, which was a blast for the band finally to get on stage presenting the songs live, beside that our new management are working on the possibilty of touring later this year and the album will be released in North/South America and Japan this spring, and we are negotiating with a DVD label regarding shooting of a live show,so we know what we will be doing in the next couple of months.
Q: Thank you very much for your time. I hope that Cornerstone will have their very special spot on the music map of today - good luck to you all!
Steen Peitersen
Your welcome
Cornerstone/Steen Mogensen
March 25th, 2004