Tommy Denander interview May-11-2001.
Swedish guitar ace Tommy Denander has finally got a deal for his project Radioactive. After 10 years of waiting a record deal has been made with MTM.
Here he is given us the "intimite" details about the past, present and future!
Read on and look, listen and learn about the happy and very busy Tommy Denander who had made his name in the AOR genre as well as in the Westcoast genre, where he had been playing with great musicians like Steve Lukather, Bruce Gaitch, Bobby Kimball, Fergie Frederiksen, and..., and...! Besides playing guitar in more "edgy" bands like Rainmaker and Prisoner - and last but not least producing and helping young bands like Sayit out - a very busy man indeed!
The Interview:
Q: You have been around for many years already - and have made yourself pretty known in the Westcoast as well as the AOR genre - whats the story behind TOMMY DENANDER?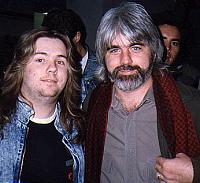 A: I feel older than i am cause i've been playing fulltime for 19 years....and i'm only 33!
I did my first album when i was 14 with a Swedish hard rock band called ATC ("Cut In Ice" Polygram/Vertigo) and that got me a lot of attention in the Swedish media as "the kid who could play like Eddie Van Halen". This was around the time when Eddie did the solo on "Beat It" for Michael Jackson so i got calls to do sessions where they wanted a flashy solo on pop songs.
It was my dream to be a session player cause i was a huge fan of David Foster, Toto, Chicago, Steely Dan and all the west coast artists so of course i was thrilled.
I played with my own bands and did albums and singles with some of them but the session thing grew bigger and bigger and in 1987 i moved to Los Angeles where i stayed for 3 years.
I was tired of Sweden at the time and needed the change and L.A was the perfect place, a true heaven on earth back then.
All the cool players lived there and they played at these great clubs like Baked Potato, The China Club and Spice etc every week.
I got to know most of these fantastic musicians and singers and pretty much had the time of my life...i mean i lived in the same building as Vince Neil (Motley Crue), George Michael and Gene Simmons!!!!...that's Hollywood!
Just a couple of weeks after i moved there i met the Toto guys and became friends with them which was a dream come true.
I jammed some with Lukather but didn't really play with the other guys, i was just happy to be a friend.
In 1990 i moved back to Sweden and started my own studio - Noble House in Stockholm.
About 3 years ago i started a new company with my engineer Thomas Ulvebring called THE HIT MEN and that's where i spend my time now writing, producing and recording for artists all over the world in pretty much all styles of music including CD-ROM's, jingles and soundtracks for movies.
I've done more than 1200 sessions and close to 400 albums....so that's why i feel older:-)
Q: You have played along guitar heroes like Steve Lukather and Bruce Gaitsch - how has this work matured you as a guitarplayer?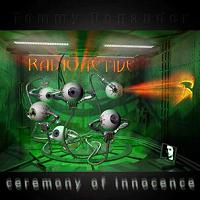 A: Not much but i've made those old farts think twice about their future!!!!...JUST KIDDING!!!!!!!
Lukather was one of 5-6 guitarists that i really loved when i grew up, the way he played between 78 and 84 was stunning and then he had a second turn between 88 and 90 where he did some great stuff.
My playing is the product of all my influences in music and in life and if you listen carefully you'll find bits from Lukather, Larry Carlton, Ace Frehley, Steve Stevens, Michael Landau, Michael Thompson, Dann Huff, Eddie Van Halen and Mark Knopfler...but mixed together with my own ideas it's become a style that people know as my style and that's one of the best feelings i've had that i'm constantly told by fans and fellow players that "i can tell it's you right away".
And my relationship with Gaitsch has been a very close one for four years now.
We've done 6-7 albums together and even a duett album called DENANDER-GAITSCH "Counterparts".
Bruce is always brutally honest with me and i love that cause i know he likes my playing and if he has anything negative to say it's only cause he wants me to do even better.
The art of playing good guitar has been lost in todays music but it'll come back, trends come and go.
Q: At last you got to release your RADIOACTIVE project - how come it has been 10 years in the making?
A: I'm just that lazy:-)))...kidding.
I did the first recordings in LA in 1991 with Toto and the plan was to release it in 1992 but i ran into a lot of problems with my label Sony and i left the company and bought the tapes back.
I asked around with some other labels and there was interest but not enough for me so i decided to wait a while.
In 1992 Jeff passed away and this album became so much more precious and rare, i was working like crazy on a million other albums and projects in the studio i owned in Stockholm so the tapes just sat there in my closet.
Over the years i've met certain big stars and i just started adding them to the album and i gave myself a promise to not release Radioactive untill i was 100% happy with it....and it took this long. If i had released it in 1992 i would have been a rather boring album today with 10% of the people that's on it today so i think it was meant to happen...and now i'm 100% happy!
Q: Have you any plans after the release - like a tour or some concerts to keep the fire burning?
A: i don't play live anymore and this album would be hard to play live without a lot of top names in the band and i know what money they want:-)
But the interest and feedback for the album is so huge already that i think it's gonna do really well and i'm gonna make two videos and a DVD from it.
The songs GRACE and HAUNT ME TONIGHT will have nice promo videos cause they actually have a chance in the "pop" market and this summer i'm doing a "The making of Radioactive" DVD that's gonna be out in the fall.
It's gonna be a 90 minute documentary with lots of cool bonus stuff and film from the recording with Toto in 1991, Fergie Frederiksen, Dean Parks, Greg Phillinganes, Vince DiCola and many more.
Q: RADIOACTIVE will be released on the MTM label - which has come up with some pretty good stuff in the melodic rock genre as well as in the more heavy departement - whats the story here - could it be Magnus Söderqvist?
A: I've known Magnus since around the time i started this and when he was working with Empire records before MTM we talked about him releasing it so when it finally felt time to get it out i talked to him and we came up with a good deal and everybody was happy.
I've kept them waiting a little long though cause it was supposed to be ready for an march release and i just finished it this sunday so i'm sorry to everyone waiting....but now it's finally done!
Magnus has been a fantastic person for melodic music in the last 10 years and it's too bad that he's leaving but i he wants to move on in life and i think he's doing the right thing.
People forget that he doesn't live and die for this music day and night and there's mostly a lot of work with small rewards cause this music isn't selling like it used to.
Q: What will the RADIOACTIVE album be like? - I have heard some bits maybe on your "Limited Access" CD - will you take off from there?
A: It will be nothing like Limited Access except that the song LA Movies was featured as a rough demo version on it. I think it sounds like a mix of Toto's Isolation, Fee Waybill's Read My Lips, Mr Mister and Giant.
It's a cool mix of the great 80's rock sound with a more modern touch here and there and the energy level is very high through the whole album...it kicks ass thanks to all the amazing guests.
Q:How about your engagement in the two bands Rainmaker and Prisoner. Your style here has turned from Westcoast to a more "edgy" approach on your latest works - how comes?
A:It started with Prisoner, when we signed with Z Records. The album sold really good and got fantastic reviews all over and Mark (Z Records) called me up one day and said that he liked my work and Geir's singing.
He told me about this name Rainmaker that he had tried to build a band or project around and if i was interested in taking care of it. It's not every day a label calls you up to do an album for them, it's usually the other way around so i called Geir and he got excited as well and we just did it.
>From the start i knew we wanted to make it harder than Prisoner and eventhough it is heavier there's still some songs that are close to Prisoner.
This is the reason we decided to make the new Prisoner "II" much softer and closer to a Journey album and the next Rainmaker is gonna be more kick ass but still with good melodies.
I was always a bigger fan of westcoast than AOR when i grew up so initially some of my work had that westcoast flavor and slowy it's become more heavy.
It's also very hard to sell any records with the westocoast sound these days and the labels are all asking for heavier albums.
I'm a bit scared of how the new Prisoner album is gonna do since it's rather soft and unfortunately has a drum machine instead of a real drummer, this was not our choice but due to certain situations we had to do it that way in the end.
The first printing of the new Prisoner CD has three bonus tracks and it's not really mastered but soon the "real" printing comes without the bonus tracks and with a good mastering.
I can't honestly say what i'll do after this year cause i can't be a "member" of Prisoner, Rainmaker, Radioactive and so involved in Sayit's albums plus all the other stuff cause it's confusing for the fans and the media.
I know we're doing a new Rainmaker this summer with heavy names on the drums, bass and keyboards but if there's gonna be a third CD i'm not sure, it depends on how well it sells.
Radioactive is a once in a lifetime project and i have no plans to keep doing more albums under that name...yet!!!...again it depends on the sales and the demands in the future and what happens with Prisoner and Rainmaker.
I know that we're eager to make another Prisoner CD with a BIG production and so on cause it's a great band with a lot of potential. The future will tell.
Q: The Westcoast genre, AOR and melodic rock has suffered from less attention the last 5 years , but I think I can sense a certain optimism nowadays with new record companies, lots of web-sites, and lots of discussion groups on the Internet - how do you see the genres? And do you think the Internet is the rescue to the genre?
A: Like most things the internet has become a great source to be seen and heard so that has absolutely helped.
I agree that it's on the up again and hopefully it will keep growing but the only way this music's gonna be really big again is if a new young band makes it...sort of an AOR version of Backstreet Boys cause the old legends like Toto, Journey and so on are too old for the kids who buy most albums.
It's a boring situation but it's the way it's always been and probably always will be...to us the westcoast/AOR music is like like what Elvis was to our parents...and eventhough they love that 50's music and try to keep it alive it's never gonna be what it was.
But i think the internet has probably saved our music cause it's a nice growing movement and i'm thrilled cause i like the home pages and magazines a lot and your support is really great...so big thanks.
Q: In Denmark today it is very difficult to get records from especially narrow genres like AOR and Westcoast music in stores - and I dont think MTM has a Danish distribution - where will RADIOACTIVE be available - AOR Heaven maybe?
A: - I don't know if MTM has distribution in Denmark but i think they do.
The album is gonna be available in most countries in Europe and Asia. I know that's there's a lot of fans of melodic music in Denmark so i hope you'll have some breakthrough with distribution and labels.
Maila fler frågor om du vill och behöver.
Tusen tack Steen.
Tommy