Reviews in short !

Tracklisting:
Back to the Rhythm; Here goes my Head again; Take me down; Play on; Was it the Night?; I'm alive; Still hungry; Standin' on the Edge; How far is Heaven; Neighborhood; 30 Days in the Hole (bonus track); Just Yesterday.
The year 2007 marks Great White's 25th Anniversary and original members Jack Russell (vocals), Mark Kendall (guitar) and Michael Lardie (guitar/keys), Sean McNabb (bass) and Audie Desbrow (drums) joined together once again and made this record and going on a tour!
After all the turmoil the band had the last years it's great to hear that they can (again) bring the best out of each other - it's just as good as I remember them in their primetime when they recorded "... twice shy" and "Hooked". The music is blues based Southern California hard rock with a lot of mature attitude - of course with a lot of radiofriendly ballads mixed with classy rockers. Best ballads in my opinion is "How far is Heaven" and "Play on" and best rockers are the title track and "Standing on the Edge" but also "Here goes my Head again" - not to forget the Humble Pie classic "30 days in the Hole"!!!
A band i have missed for years is now back and very much alive! Great...
---

Tracklisting:
Not for me; Live for Tomorrow; Lettin' go; Look out for the Boys; I want you; Your Touch; Let the Sun shine; You got me; In my Face; broken; Still in me; Dance with me.
Marco Mendoza is a musicians musician nad has played with Whitesnake, Thin Lizzy, The Cranberries and Al Jarreau - what a variety;-) Now he is on his "own" - that is if you don't want to mention partner in crime Richie Kotzen and all the other all-star members here like Steve Lukather, Ted Nugent, Doug Aldrich, Tommy Aldridge, Brian Tichy and Steve Weingart - all assampled and produced by Kotzen.
Forgotten is the jazzier sides of Mendoza magnificent bass parts and back is the real rock and funky blues album featuring Mendoza in a great shape - also (to my surprise) a rather soulful though nassal voice he has.
A relaxed and rocky album - follow the "users guide" in the following press material: "Sit back, light a cigar, relax, put the stereo on and enjoy the ride that this musical master can offer!"
---

Tracklisting:
The Revenge; Obsessed; Victory; Master of Sorrow; Will you follow; Just a Dream; Her Spell; Gone too far; Wake up call; Under the Waves; Who can you trust; When the Time doesn't heal.
The first chapter of Jorn Lande and Russell Allen's collaboration, "The Battle" was unleashed in September 2005 with unanimous acclaim from fans and critics alike.
Many websites and magazines named it "Record of the Year". It's success made it one of the most popular releases ever in Melodic Heavy Metal, thanks to beautiful, sweeping piano and keyboards, heavy guitar riffs, virtuoso guitar solos, hooky choruses and the vocal talents of two of the finest Heavy Metal vocalists around.
Russell Allen is the singer of the American Progressive Metal band Symphony X, who have released six studio albums and one live record so far. More than once Symphony X received accolades such as "Best Progressive Power Metal Band Worldwide" or awards for the "Best Progressive Metal Album of the Year".
Highly rated ex-Masterplan vocalist Jorn Lande has a vocal capability that is world class, distinctive, rich and spanning a large range. He is in high demand and has appeared as guest or sung for such bands as Millennium, ARK, The Snakes and many others. He is also a well-known solo artist with six studio albums released, since the debut "Starfire" in 1999.
Once again songs were written by guitar sensation Magnus Karlsson (Starbreaker), the second chapter aptly titled "The Revenge" is ready to be unleashed, with cover art specifically designed for this project by Rodney Matthews (Magnum, Asia etc.)
Heavier and with a tighter production, thanks to the involvement of Dennis Ward (PC 69, etc-.) at the mix, not to forget Jaime Salazar (Flower Kings, Campo di Marte etc.) on drums this album will excite the many fans who loved the first chapter and everyone who declares themselves fan of quality Hard Rock or Metal.
---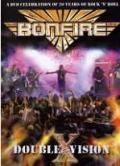 Tracklisting:
Day 911; But we still rock; Never mind; Under blue skies; Hot to rock; Don't touch the Light; Tony's Roulette; Give it try; American Nights; Hard on me; Sweet Obsession; Ready 4 reaction; Bang down the Door.
Bonus Tracks - The Videos:
Starin' Eyes; Sweet Obsession; Sleeping all alone; Hard on me; Sword and Stone.
Rock gegen rechte Gewalt 2002:
Under blue Skies; Sweet Home Alabama; Proud of my Country.
Behind the scenes...
This live concert with Bonfire was recorded in England during the "Double X Anniversary Tour" 2006. Bonfire is still one of my all-time favourite bands, and I sometimes drag "Fire Works" and "Point Blank" out of my dusty record collection... So this live DVD and bonus material is good fun and all!
The DVD was filmed at Firefest III in Nottingham last year, where Bonfire played a classic set of tracks mainly focused on the two mentioned albums - but added a couple of new ones from their latest studio album "Double X", naturally.
Vocalist Claus Lessmann still is a great front man and Hans Ziller seems to be in good shape, too - but both added a few pound, when you check their videos from way back. The rest of the band are all "new comers", Uwe Köhler (bass), Jürgen Wiehler (drums) and Chris Limburg (guitar), but fits the bands musical expression, excellent.
Watching the DVD, I realized that this band has had a greater influence on my musical "education" and "growing-up" that I liked to admit - i, meen German melodic rock from the mid 80's - how cool is that?! But this band has made classics like "sweet Obsession", "Give it a try" "Tony's Roulette" and not to forget - "American Nights" - great. I found myself humming along to several tracks the following morning;-)
The bonus tracks include 5 music videos from the classic era - and some live songs from a WDR Rockpalast TV concert, nice ones - but a crappy sound, though. The "behind the scenes" isn't that interesting - but it is a bit funny (please read: Embarrissing) to see the two Bailey Brothers again, sigh!
A very welcome Bonfire DVD - there are hours of good rock from Ingolstadt here!
---

Tracklisting:
Love is Life; Got me where you want me; Second Hand Life; In your Eyes; Blood red Sky; Stroke of Midnight; Over the Top; Cruel; Sweet Obsession; Love is on our Side; Two Lights (bonus track).
Joe Lynn Turner's career spans over nearly 30 years and includes over 50 album credits, Joe Lynn Turner ("JLT") is still one of rock and roll's most distinctive vocalists.
"Second Hand Life" is Turner's new studio album, his tenth solo release. This time Joe wanted to go straight back to his melodic rock roots. Therefore, he worked on the songwriting with such luminaries as Jim Peterik (ex Survivor), Bob Held, Karl Cochran, Martin Briley. He also managed to include a track that he co-wrote with Ritchie Blackmore, Jim Peterik and Roger Glover entitled "Stroke of Midnight" from the "Slaves & Masters" sessions.
The players on the new disc include longtime collaborators Karl Cochran (Ace Frehley) on guitar and bass, Bob Held on bass, Gary Corbett on keyboards and former Damn Yankees - now with Lynyrd Skynyrd - drummer Michael Cartellone.
In Joe's words: "I would describe the new album as a hybrid between The Usual Suspects and Sunstorm, my recent studio project which received more positive reviews than any of my solo CDs since "Rescue You". I felt that the fans wanted to hear more music in this melodic rock vein. So...I think we delivered on this forthcoming album".
I can partly agree - this release shows (once again) that Joe Lynn Turner still is one of best vocalist in melodic rock. But there is nothing new here, very pleasent!
---

Tracklisting:
I'll never fall; I got a Thing for you; I can't cry; This Moment; Waiting for you; The first Time; Long long Way; Over you; Take it all the Way; In this Life; Southern Rain.
Stan Bush is a melodic rock legend. "In This Life" is his 10th studio album and this time Stan was able to reach a whole new level as a world-class songwriter/recording artist! With powerful melodies that have made Stan a popular artist around the world, his new album is one of his best ever!
Producer and guitarist Holger Fath has helped Stan create a true melodic rock gem. The title song has an almost spiritual message about searching for truth. "Take It All the Way" is about going for it! Other songs on the album are about love and life, and all share a common message of living life full-out! "Southern Rain" is a heartfelt 'unplugged' acoustic song about Stan's early years growing up in Florida and also features a guest appearance by guitarist Rocket Ritchotte (David Lee Roth, Rick Springfield).
Songwriters on the album include Stan, Holger and Curt Cuomo (Kiss, Whitesnake) while the musicians that helped Stan in the recording include drummer Matt Laug (Alice Cooper, Richard Marx, Eddie Money, Anastacia etc.) and Lance Morrison on bass guitar (Alanis Morrisette, Don Henley). Holger Fath's guitar work, production, arrangements, and keyboard programming all combine to make it a brilliant rock album!
Stan Bush has announced touring plans in support to the release of the new album, so stay tuned for news!
---

Tracklisting:
The last Goodbye; Firing Guns; Hold out your Hand; Breaking me down; Goodbye to Yesterday; Walking the Line; Love tried to find you; Save me; Lucky One's (Born tonight in the setting Sun); Under the seven Skies.
Recorded at MadHat Studios in Wolverhampton, UK, Dante Fox's long awaited third album has all the classic signature hooks running through their veins with tracks like "Hold Out Your Hands" and "Goodbye To Yesterday" being typical examples. The new material has a strong classic hard rock flavour making this album something special when compared to the band's previous releases - more energy, more power and extreme excitement. Guitarist Tim Manford presents the new effort saying that: "It is evident that individual performances are very impressive and the end results have produced a much more mature and confident sounding album". "We hope the fans will warm to the new music as much as we do", concludes Manford which points at the title track as the most relevant example of the new songwriting abilities "It was the first song written as a team by all the lineup members. This happens to be an nine minute epic, with string arrangements, classic Brian May-esque harmony guitars and as usual Sue's passionate vocal".
The new band's line-up includes now Mick Hales on drums (a veteran of the midlands rock scene), bass player Mike Dagnall and keyboard player / guitarist Roman Wieckowski. The first track recorded "Breakin' Me Down" has had heavy rotation on Steve Price's Show on ARFM with great reaction and support. Same happened to the song "The Last Goodbye" which was exclusively aired during the Christmas holidays on the Frontiers Records myspace site.
So if you're into very melodic hook-driven rock like i.e. Broke'N'Blue - fronted with a distinct female voice - this is right up your alley! .
---

Tracklisting:
Heaven on Earth; Book of Life; Love's eternal Flame; Laguage of the Heart; Let me let you go; Faithful Heart; Defying Gravity; The Roaring of Dreams; Secret of the way; Astonish you; Tall ships; Turnaround.
This is the 3rd album by mr. AOR Jim Peterik in the band Pride of Lions which also includes top vocalist Toby Hitchcock - and by far their best!!!
"The Roaring of Dreams" has all what i missed in the previous releases - or maybe my expectations where to big. The ballads, the uptempo rock song and the big big (almost Jim Steinman-esque) epic songs - they are all here, from the very first tune... I cant't decide which track is my favorite - but the beautiful "Faithful Heart", the rockier "Defuing Gravity" or the mighty title track?? Uhm, a hard choice. But also "Language of the Heart - inspired by Survivors "Feels like Love" is a contender.
On the record the duo have have included Ed Breckenfeld on drums, Klem Hayes on bass, Mike Aquino on guitar, Christian Cullen on keyboards and Thom Griffin on background vocals.
A great record - inspired by the mid 80's sound, but updated in expression and production! I like it.
---

Tracklisting:
The other Side; Diary of Evil; Badlands; Black; Thunder roar; The Sign; Revenge; Under the Gun; Can't stand the Heat; No return; Last Man Standing; Baby please don't go (bonus track).
Sinner is back! The band said, "No compromises!" earlier on – and that's exactly what the album sounds like.
"Mask Of Sanity" produced by Mr Mat Sinner himself and engineered by Achim Köhler, the band presents itself with guitarist Tom Naumann and keyboard player Frank Rössler. The new Sinner line up can also celebrate a comeback, because former Pimal Fear drummer Klaus Sperling, who has already joined the band on tours and festivals, is now a fixed member of the line up – accompanied by Traceelords guitarist Christof Leim, who has also joined in! In addition, the album features guest appearances by Andy B. Franck (Brainstorm), Ralf Scheepers (Primal Fear) and Martin Grimm (Mystic Prophecy).
A videoclip was shot for the song "Diary Of Evil" written by Mat Sinner together with Roy Z and the video is a bonus track on the ltd. first initial pressing of "Mask Of Insanity". The Thin Lizzy cover "Baby Please Don't Go" appears as bonus track as well.
"Mask Of Sanity" impresses by Tom Naumann's fantastic guitar work (which the scene calls "atomic major" because of its conciseness) and, of course, by Mat Sinner's pounding bass and his expressive voice. Fresh sound, full force – "MASK OF SANITY" is a great in-your-face record!
---

Tracklisting:
On and on; Fool for your loving; Cold Sweat; Lonely is the Word/Letters from Earth; Burn; Feel like making love; Kill the King; Perfect Strangers; Naked City; The Day the Earth caught Fire.
Jorn Lande is one hell of a singer - and can put up a fight with all the classic singers in the business: David Coverdale, Ian Gillan, Paul Rodgers and even Phil Lynott... and so he does!
On this "Unlocking the Past" there are tracks that originally was concidered as "leftovers" or additional bonus tracks for previous Jorn albums. But many of them never made it to any record. Some are also recorded exclusively for this record. Nevertheless i have never heard so powerful a version of "Burn" - and there has been several covers on that one;-). But also "Feel like making Love" is a very vital outlet. I personally was very surprised by the vitality of the old Kiss track "Naked City" - but my favorite must be the magnificent "Perfect Strangers"... but the original is one of my all time favorites!
Jorn Lande has joined forces with a lot of classy Norwegian musicians supplied with Ralph Santolla and Don Airey among others - and you can always discuss the concept of recording an album with covers only - but this is great one!!
---
Tracklisting:
Freelight; Dynamo; Foolish Pride; Only the Lonely; I hope you don't mind; Someone's wathing you; All the Way; Nothing is easy; Lion's Den; The Witches Mask; Half Way Homa; Delia.
Final Frontier newest opus is called "Freelight". The band featuring the well known high pitched extra ordinairy vocals by Rob Moratti, the multi talented Mladen (Von Groove) on guitar, bass and keyboards, Lawrence Falconer on lead guitar, and special guest appearance on the drums by Kevin Howley. Their music is very similar to previous Final Frontier albums and much stronger! I think this is the best release so far.
If you (like me) are a sucker for big melodies, grand guitars, hookladen grand production tracks like "Freelight", "Dynamo", "The Witches Mask" is right up your alley - Rob Moratti's vocals is right on the spot everytime, heavily supported by the powerful riffing by Mladen and furious guitar blitz by Falconer. But also the soft heart wrenching ballads like "Half Way Home" is an absolute blast.
Highly recommended!
---

Tracklisting:
Close your Eyes; Love/Hate; Fools Parade; Incomplete; Chase the Sun; Heads up; How far you are; Back for more; All fall down; Erase and rewind; On a Day like today.
Eden is a new UK melodic rock band that features one of the busiest men of the British rock scene guitarist/producer Vince O'Regan (Bob Catley, Pulse, Alibi) and vocalist Nick Workman from the band Kick - in this band they are joined by drummer Paul Rodgers, bass player Alan Mills and Keybordplayer/guitarist James Screaton.
I'm a big fan of O'Regans previous work and I really like his guitar playing on "Open Minds" which is an utterly interesting album – it mixes traditional British melodic rock with a more progressive edge - but also have stints of pure and simple rock. My favorite tracks here are the tracks where Workman can scream the wallpaper off the wall like "All fall down" but also the more mellow "Fools Parade" works really well.
Eden has really made one hell of a debut her, imagine a mix of Bad Company, Dream Theatre and Aerosmith...!? Great.
---

Tracklisting:
The Silence of my Sins; She.
Mayah from Norway was formed on June 16 2005. The band has risen from the ashes of the reunited Sea Of Dreams' line-up - namely Jim Foss (lead vocals), John Martin Haar (bass), Ove Bjorn Wilson (keyboards) and Svein Harald Kleppe (drums). Discovering that this four guys had a future, they added Orjan Risa Svendsen (guitar) as the final member.
Shortly after Jim Foss and Orjan Risa Svendsen left Mayah and was replaced by Roy Egeland (lead vocals) and Thomas Espeland (guitars). This five-some is powerful and technically very skilled, gifted and talented. They play with big authority and are very convincing - in their own style, inspired by bands like Symphony X and Dream Theater, though.
Check this Norwegian prog/power metal unit out! They deserve it...
---

Tracklisting:
Goodnight LA; Heart of the Rock; Thunderheart; Somewhere; Jack-knifed; Angel of Light; Now or never.
Scream Arena is a UK classic hardrock band formed in the autumn of 2005 by musicians combining flair and a vision of what good music should be, drawing on influences such as Judas Priest, Scorpions, UFO, MSG, Accept, Cinderella, RATT, Leatherwolf, Van Halen, Metallica, Icon and Queensryche amongst others.
The band features Andy Paul on vocals, Chris White on lead guitar and Nick Daniel on bass/rhythm guitar/keyboards and drum-programming - their drummers seat is vacant...! And this trio sure knows how to rock and write a catchy tune - just listen to the title track "Somewhere" it has a great riff, a catchy chorus and an excellent guitar solo. But several more tunes have these qualities - so support this great guys!
Let's hope the best for these 3 enthusiastic musicians - they work really hard for their money.
---

Tracklisting:
Blue Collar; Is he better than me; Nightmare; Oh Samantha; Avalon; Life got in the Way; Blue Monday; Forever I will; I can't forget you; I put my Life in your Hands; Good Things take Time; I don't want to want you.
Richie Zito has worked for some of the biggest names from the 70's as a hired session guitarist - Diana Ross, Eric Carmen and Leo Sayer, to name just a few. But he erned his fame and fortune as a producer as well... and in my record collection he has pushed the buttons for acts like Bad English, Heart, Cheap trick and White Lion.
When Serafino Perugino from Frontiers approached him to make an album Mr. Zito saw it as an opportunity to collaborate with some of the best singers, and here they are: Hugo Valenti, Joe Lynn Turner, Eddie Money, Joseph Williams, Eric Martin, Danny Vaughn, Philip Bardowell, Richie Kotzen and Giorgio Moroder - phew!
Zito plays almost every intrument on this album - but Tommy Decker and greg Bissonette handles the drumming, Jason Turbin the strings and Joey Carbone the piano. And the result? you may ask... is absolutely great! Fantastic production, great songs, marvellous vocalists and outstanding musical skills. Only negative side here is the lack of consistence - but on the other hand the little trick of using different singeers is a charm in itself!
---
Tracklisting:
Invisible Noise; As far as the Eye can see; Downhill Racer; A fix; She needs me; Give me a Sign; Guitar solo; Caught between the Tigers; Listen to your Heart; Black Butterfly; Seven Seas; Forever shine on; Fantasia Espanola; My Religion; 10.000 Lovers (in one); Intuition.
This live concert with TNT in Madrid, Spain was the last recording with American vocalist Tony Harnell. It is recorded and filmed in Madrid, Spain on April 1st 2006 - to be precise, infront of an ecstatic audience, the DVD give a real insight of TNT live, even though you can hear som after work in the background choir departement!
But aside from these small negative sides the 82 minutes of Tony Harnell, Ronnie Le Tekro, Diesel Dahl, Andy Skov (guitar) and Sid Ringsby (bass) is fantastic. From opener "Invisible Noise" to the mre melodic radio friendly "Intuition" in the end the band delivers a really convincing live set on the rather small scene - but it is intense and authentic. Even six-string-extraordinaire Ronnie Le Tekro's very long guitar solo with lots and lots of Jimi Hendrix preferences is great and varied!
The bonus material isn't that exciting though, there's a live version of "Everyone's A Star" from SwedenRock - 2004 with a rather bad sound quality, a one minute long autograph session from somewhere, and "She Needs Me" live at Rockefeller, Oslo, Norway, 2004. I miss some interviews and/or the bands story so far - or anything, actually! But lets see TNT in their new line up with Tony Mills as new front man - the first chapter was great, thanks, so far!
---

Tracklisting:
Enter the Carnival; The Black Circus; Intuneric I; Enchanted Mind; Intuneric II; Forever Carousel; Freakshow; Gypsies Dance pt. 1; Intuneric III; Wisdom; Intuneric IV; Disciples of the Entities.
Manticora's new album "The Black Circus part 1 - the Letters" is produced by Tommy Hansen at the Jailhouse Studios and its the Danish power quintets fifth full length album.
It is the first part of a 2- album concept - the second part is planned for the spring 2007. Lyrically it deals with the horror story of a travelling circus in the 19th century New England - and the album has a very big production that reveals and allows the more dark/progressive sides along the more powerful metal aspects.
---

Tracklisting:
Star of David; Taint the Sky; Waiting in the Wings; Banish the Wicked; Not an Angel; Devil's inc; Walking Tall; The Edge of my Blade.
Seventh Wonder was formed in 2000 by bass player Andreas Blomqvist, guitarist Johan Liefvendahl and drummer Johnny Sandin after their previous band fell apart.The music turned towards the progressive side of metal and as the band was joined by keyboard player Andreas "Kyrt" Söderin late 2000.
Two demos were recorded, the first in 2001 (Seventh Wonder) and the second in 2003 (Temple In The Storm), both of which received good press. Many singers have come and gone in Seventh Wonder over the years, among others Ola Halén of power metal band Insania Sthlm. The longest living member in the past was Andi Kravljaca (ex: Heave, Elsesphere), and it was with Andi at the microphone that the band recorded their debut album "Become" (released in 2005), after landing a record deal with Finland's Lion Music.
"Become" was well received by the press and top scores were given everywhere. However, the band and Andi decided to part ways shortly after the recording process had ended and once more the search for a singer started… The brilliant Tommy Karevik (ex: Vindictiv) was spotted and he joined the band in 2005. The new album "Waiting In The Wings" was recorded with Daniel Flores handling the producers duties but was mixed and mastered by the one-and-only Tommy Hansen at the Jailhouse Studios.
Seventh Wonder, currently signed to Danish agency Intromental Management are now ready to conquer us all with their excellent played melodic progressive metal - outstanding! .
---

Tracklisting:
Jacobs Ladder; Stay; Everytime we touch; Throwing Stones; LRT; High Speed; Newradio; Throw it away; Nothing between us; It just doesn't matter.
Tourist is quintet from Vancouver, Canada featuring the talents of Blaine Braun (vocals), Mark Radloff (bass), Greg Whitbeck (guitar), Andy Skov (guitar) and Bob Wagner (drums). They are hard working in their homeland and in ste US where they are highly ranked in several competitions on the east coast. They played alongside bands like Nickelback and Default - but their big breakthrough was their song "Everytime we touch" was the official single to supprt the reissue if the classic Converse shoe.
The album "The Relevance of Motion" is produced by Mike Fraser (AC/DC, Thunder) and show the band as a part of a new generation of young an highly motivated modern sounding melodic rock bands - not that far from idols in Nickelback!
---

Tracklisting:
Fighter's fist; Radio Luxembourg; Parisienne Walkways; Happy Hour; Haunted; Wall of Sound; Silent Fall; The Reprise; Goodbye Mr. C.
According to the press material following this CD Taz Taylor was born and raised just outside of Birmingham, England. His two earliest musical memories are "Parisienne Walkways" by Gary Moore and "Since You've Been Gone" by Rainbow. Watching them at the Top Of The Pops, he took up the guitar shortly afterwards and soon discovered Michael Schenker via the UFO classic "Strangers In The Night". Taz moved to California, USA in 1997 and recorded an instrumental album called "Caffeine Racer". This time he called another Englishman living in the states to add vocals, namely ex-Rainbow and MSG singer, Graham Bonnet who was planned first doing vocals on 4 tracks...
"Welcome To America" is an Homage to all the melodic rock bands in the late 70's - first 80's and Taz Taylor really knows how to do it: Ten tracks, two covers, one instrumental if that isn't the 70's I don't know...
"Welcome To America" is a more than a cheap copy of the 70's/80's albums,though - I really like the whole attitude of it. Third track - my favorite - "Radio Luxembourg" comes with blistering guitars and a fine shaped Bonnet singing at the top of his lungs. It is a very fine piece of work Taz Taylor and band has done here. If you are intersted just listen to soundbytes through his website! But you know... you got to have the album!
---

Tracklisting:
I am the Law; King of the Ward; Behind the Gun; Live or die; Disconnect; Dr. Wicked (Rx O.D.); Derailed; The Grail; Never again.
I best remember American melodic power metal outfit Leatherwolf back from their 1989 released album "Street Ready" with a triple guitar attack - since then i have liked this five-piece... not that they have made that much after - an album from 1999, and now this!
The new album "World Asylum" featuring new members: Vocalist Wade Black (Crimson Glory, Seven Witches), guitarist Eric Halpern (Helstar) and bassist Pete Perez joining original members Geoff Gayer (guitar) and Dean Roberts (drums). It is powerful produced by Dean Roberts and mixed by Danish studio wizzard Jacob Hansen. Heavy and progressive - metal through and through.
---

Tracklisting:
Deep Down; Balcoon; Infinity; Ab er Co; Where's the Paper; New World; Six months later; Rules of cleaning; Dog's Way; Too early.
Jill Yan, a Swiss guitarist, mixes hard rock, fusion, heavy metal, jazz and many more genres in his 2006 release, entitled "B4". Inspired by Joe Satriani, Allan Holdsworth, Matthias Eklundh etc. but with a slightly harder edge, Yan spreads instrumental bliss through ten tracks that absolutely shine. Jill Yan has a graduate of the GIT Musician's Institute in California, and has already made one CD back in 2000 called "Guitar Garbage".
Joining him on the recordings are Ivan De Luca on bass, Franz Hirt on drums and Pascal Alba on several bass soloes along the line... And together they made tracks like "Ab Er Go", "New World" and opener "Deep Down" to instrumental delicacies! The musical skills and the production of the album is all very impressing - this should be big!!
---

Tracklisting:
Intoxicated; Bang Bang; Survived; Colour Us blind; In my Life; Seven days weekend; Spiritually Possessed; So hard to say goodbye; I am who I am; My dearest one; lost my Faith; Barrels of fun.
Ureas is the brainchild of singer Per Johansson (Fate) and his wife Heidi. This is not the finished Cd but just pre-listen to the melodic power of their Nightwish and/or Lunatica-inspired power metal.
According to their own website this project is: "Melodic, catchy power metal with the many and varied emotions of Love/Hate, inner feelings and hopelessness as the focus of deep ambiguous lurics...
Ureas- a promising power metal group has now finally made its way into the limelight. The energetic force characterising the grup´s ground-breaking, cross-over musical style has been created from the grup´s musical origins in the beautiful, inspirational natural setting of Falster and Horsens, Denmark. The power metal description is Ureas´own term for the musical universe where their misic lives.
With a atmospheric hard groove surpporting the solid vocals, ambiguous lyrics give voice to the depths of the soul. Some of the songs sound uplifting and happy, but with meleancholy undertones, such as the song "In My Life" which is about the male singer´s suicide attempt in 2002."
All in all its all very well produced and arranged that clever - so I can't help being tangled in the bands very emotional and personal melodies. All melodies are very emotional but let me mention "In my Life" as the most touching but also "Colour Us blind" with an acustic intro and the fantastic vocals of both Per and the sweet Heidi is great - and added the fantastic guitar solo (from Mathias Ekhlund) you have a radio hit in spe. Combined with an extreme flair for melody and equally sensed power Ureas has made a blast of an entry on the rock scene - lets hope that record companies is reaching out...!
---

Tracklisting Disc1:
Intro; Brand New Morning; Backstreet Kid; Need a lot of Love; Soldier of the Line; We all run; Vigilante; Kingdom af Madness; Sacred Hour; How far Jerusalem; Just like an Arrow; On a Storyteller's Night; Before first Light; Les Mort Dansant; Endless Love; Two Hearts; Steal your Heart; All England's Eyes; The last Dance.
Tracklisting Disc2:
Promo Videos, Introductions, Interviews; Acustic track; Slideshow; Rehearsals.
Magnum was founded in the mid-Seventies and brought out their debut "Kingdom of Madness", featuring diverse prog-rock of the melodic variety, in 1978. "Magnum II", out one year later, sounded even more symphonic, and their first live album, "Marauder", arrived at the stores twelve months later. "Chase The Dragon" (1982) and "The Eleventh Hour" (1983) documented the musicians' unmistakable development, but the big breakthrough took a long time in coming. It arrived, deservedly, in 1985 with On "A Storyteller's Night", "Vigilante" (1986) and "Wings Of Heaven", which made no. 5 of the British album charts and spawned three top 30 single hits. Celebrated tours and invitations to most important open-air festivals of the Eighties followed, the Reading Festival, the Monsters Of Rock in Castle Donington among them, as well as several shows at the Wembley Arena and annual appearances at the legendary Hammersmith Odeon.
In the early Nineties, the musicians flew to Los Angeles, where they recorded their "Goodnight L.A." album, composer Clarkin being supported by Russ Ballard and Jim Vallance. The band's record company released "The Spirit", featuring rare or previously unreleased tracks from another studio session, towards the end of their mutual contract, followed by "Sleepwalking", another new, regular studio album soon afterwards. The first chapter of Magnum's success story ended in 1994 with "Rock Art" and a major farewell tour, during which the final live album "The Last Dance" (out in May 1996) was recorded.
Clarkin went on to work as a producer and songwriter for other artists, released two albums with Bob Catley, recorded by their intermezzo project Hard Rain in 1997 and 1999, and generally recharged his musical batteries. Then, almost precisely eight years after "Rock Art", glorious times returned for Magnum. Their 2001 album "Breath Of Life" oozed present and past all at once and was followed by a number of celebrated shows. "It was very inspiring for me to write and produce material for Magnum again," Clarkin explains. "Compared to the Hard Rain tracks, Magnum compositions are more powerful, deeper and more passionate."
With their last release, "Brand New Morning", and the impending European tour in late summer 2004, the band offered an exciting preview of the future which allows but one prognosis: Magnum will be a force to be reckoned with for years to come!
And this culminates in the release of the new DVD "Livin`A Dream". Packed with over 215 minutes of Magnum stuff - a dream for all fans come true. The first disc recorded Live at the Astoria shot on April 23rd, 2005 in Wolverhampton, UK - 18 song concert including the "On a Storyteller's Night" set - 5.1 surround and stereo mixes! And on the second disc promo videos 8 Promotional video clips from the band's history - introduced by Tony and Bob. Interviews: full band interviews with Bob, Tony, Mark & Al , plus 2 crew members. Acoustic track: A specially filmed acoustic version of "The Spirit". View from the Queue: 12 minute film featuring fans outside the Wolverhampton arena. On the road again: 9 minute film of the band's trip to Sweden June, 2005. Slideshow: 57 exclusive photos, live and on the road. Rehearsal: Rehearsing The Storyteller's Tour.
This is a must have for all fans...
---

Tracklisting:
Creep; All that I wanted; Wouldn't you agree; Joshua; Golden days; Setting it up; China Girl; Save me; Easy; Daydream Believers.
Silver is as you might already know the common project of British vocalist Gary Barden and german guitar/producer Michael Voss. With them on this 5th album are Andi Broon on keyboards, Mike Bar (Sisters of Mercy) on programming/sequencing, Tommy Denander on additional lead guitars and finally Michaela Schober on backing vocals.
For fans of the European style of classic melodic hard rock, this album has a lot to offer: a strong feel for melodies combined with perfect musicality of top-notch artists. Outstanding songs on the album are the rocking intro of "Creep" the beautiful "Joshua" and the mellow "Golden Days" - but also woth mentioning is the Bowie cover of "China Girl" and the last song "Daydream Believer" - great stuff!